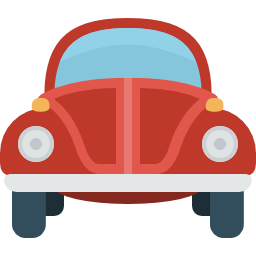 Improve your vocabulary in English with this lesson on the words we use to talk about cars, like boot, windscreen and wheel.
The boot, or trunk (USA) is the part of the car at the back where you put things like luggage when you go on holidays.
The windscreen is the glass that stops things from entering the car when you are driving.
Cars also have many types of lights. You have headlights, break or stop lights, indicator lights, tail lights and interior lights.
The wheels and tyres (tires) of a car are very important. They help the car move forward or backward.
If you have a flat tyre, you will have to change it.
Another part of the car is the bonnet or hood (USA). Under the bonnet you will find the car's engine or motor.
Mirrors are also an important part of a car. You have them on the outside and inside of the car. Side or wing mirrors are on the outside and rear-view or rear-vision mirrors are inside.

And to steer the car you use the steering wheel.
Do you drive a car? Let me know what type of car you have in the comments below.
This lesson is for students at the A2 or pre-intermediate level.
You can also study this lesson if you want more vocabulary.
I have English vocabulary courses at curious.com
Happy English!